NIC… The private sector seeks to meet local market needs of food industries
Posted on |04.26.17
NIC… The private sector seeks to meet local market needs of food industries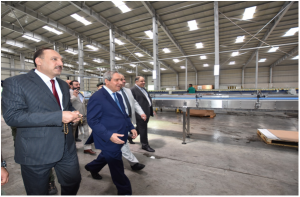 NIC Chairman, Dr. Sami Al- Araji assured that Babylon province will surely be a base for starting large economic projects in food industries sector for its characteristics that enable such projects to succeed and grow.
In the opening ceremony of the Sugar Plant established by al- Etihad Co. for Food Industries last Monday, 24th, Apr.17 which was attended by Parliament members, Babylon Governor, head of Babylon province council, members of the local provincial members and a number of investors, Dr. Sami said that investments of the private sector had largely participated in meeting the local market needs of food industries and providing the items of the national food basket.
Al- Araji added that this project is considered of the big important ones in Iraq which uses modern technology in producing the sugar according to the standards of the International Standards Organization, the matter that can contribute to booming the national economy through saving hard currency and hiring the local labor force.
NIC Chairman had a tour in the plant to see the production lines achieved by BMA German Co., listening to detailed explanations made by engineers supervising the production stages.
NIC had already granted an investment license to Al- Etihad Co. for Food Industries (private sector co.) to construct a plant for producing sugar with a total cost of 250 Million $ and on a space of 117 Dunem.
The first stage of production started in 2015 with production capacity of 3250 ton/day and the plant provided the ministry of trade with 76 thousand tons of sugar monthly to cover the requirement of the national food basket. 2000 engineer and technician is the number of the new plant workers.
It is hoped that the second stage of production will be launched with the same production capacity of the first by the end of this year, the production that shall cover all the local need. The remaining production shall be exported to the outside markets.
In the same context, NIC granted an investment license to the same company in order to construct a plant for the production of vegetarian oils with a total cost of 125 Million $ and total production capacity of 3200 ton/day on a space of 57 donum to meet the local demand.