With a remarkable production capacity.. Chairwoman of the National Investment Commission inaugurates Al-Kawthar Paper Industries Factory in Holy Karbala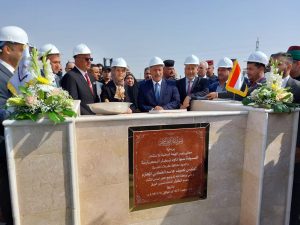 With a remarkable production capacity.. Chairwoman of the National Investment Commission inaugurates Al-Kawthar Paper Industries Factory in Holy Karbala
Chairwoman of the National Investment Commission, Suha Daoud Najjar, today Sunday the 20th Feb.2022, put the cornerstone of (Al-Kawthar)  factory for paper, cardboard and boxes, with a paper production capacity of 250 tons /day, which covers 17% of the country's need in addition to another line for the production of cartons with a capacity of 120 tons/day, covering 15% of the country's needs, according to the Ministry of Planning statistics.
In her speech during the opening ceremony, which was attended by the Governor of Holy Karbala, Eng. Nassif Jassem Al-Khattabi, and a number of Karbala Parliament representatives,
she expressed her optimism regarding putting this industry back on track again in Iraq and supply our hungry markets of this vital industry.
Al-Najjar expressed her hope that this vital industrial project, which is one of the environmentally friendly factories, will be one of the aiding tools to stimulate the economy in Karbala province and an important source for providing job opportunities for the community of Karbala
She added that Karbala governorate is one of the governorates that has succeeded in attracting a distinguished elite of investors and businessmen in various sectors, including the industrial one, which we seek to be a solid economic base for Iraq, which, along with other sectors, represents a springboard towards sustainable development and an end to the rentier economy in Iraq, as we have in our future plans for this safe and investment attractive governorate, many projects, especially in the tourism sector, and this reflects the serious and continuous cooperation between the PIC and officials in the local government of the governorate.
She emphasized the NIC keenness to support and encourage the establishment of vital investment projects in all governorates of Iraq and in various economic sectors.
Governor of the Holy Karbala, Engineer Nassif Jassem Al-Khattabi, said that this project comes within a series of projects implemented in the province, which aim to diversify the economic base in it through investment, as this project will have a positive impact on supporting food industry factories due to its important role in the packaging process.
Al-Khattabi expressed his thanks and appreciation to the National Investment Commission for its support in establishing investment projects, which is beneficial to the city.
NIC Chairwoman, accompanied by the governor of Karbala and a number of officials in the governorate, inspected the 100% completed first phase of the project, which represents 50% of the project's whole completion rate.
During her tour, she also paid a visit to Karbala Al- Ghadeer housing project, during which she listened to details from the project CEO, Mr. Ibrahim Al-Tamimi. Also she visited the iron and steel plant in the province. The opening ceremony was attended by representatives of the two holy Husaini and Abbasi shrines, as well as a number of community leaders and sheikhs in the province.