In the NIC Premises
Iraqi- Emirates extensive negotiations to invest in Power sector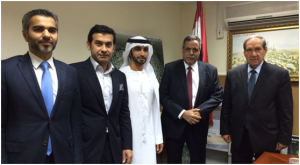 With the attendance of H.E Minister of Electricity Mr. Qasim Al- Fahdawi, NIC chairman received Sheikh Ahmed ben Delmook Al- Maktoom and the accompanying delegation in the NIC premises in Baghdad, where negotiations about the desire of the Sheikh companies to invest in power sector was done.
Minister of Electricity and NIC chairman submitted an elaborated explanation about the requirements of the electrical sector in Iraq and the need to attract investments in the power production sector in addition to rehabilitating and developing the electrical transformation and distribution networks.
Sheikh ben Delmook, in his turn, showed his full readiness to invest in the power sector and provide all its requirements assuring that his group is willing to enter the Iraqi market from its widest gates and invest in its various sectors.
The attendants agreed to make extensive meetings to come out with the decisions that lead to implement the projects asap in the way that serves both countries benefits.
Worth mentioning that Sheikh al- Maktoom group is the partner of al- Handhal international group which is currently implementing Mustaqbal 2 housing project in Baghdad.