A delegation from the Parliamentary Investment and Development Committee visits the residential city of Bismayah
=======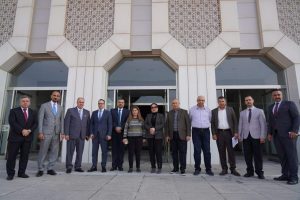 A delegation from the Parliamentary Investment and Development Committee, headed by the eldest Representative Vian Abdel Aziz Abdel Rahman, the Representative, Mr. Hussein Al-Saabari, the Representative, Mr. Amanj Mahmoud, and the Representative, Mr. Muhammad Al-Ziyadi, visited Yesterday, Wednesday, Bismayah Residential City, where they were received by the Director General of the Relations and Media Department in the National Investment Commission, Mr. Haider Hamadeh, and a number of officials in charge of the project.
Problems and challenges were discussed to be resolved and hit the 100 thousand units and overcome difficulties that stands against serving the inhabitants
Representatives  expressed their keenness in supporting  the completion of the project and continue  providing  services to its residents by addressing  departments and institutions to supply the basic requirements for citizens, in addition to cooperating with the National Investment Commission to proceed with the completion of the project.
Mr. Hamadeh affirmed that the National Investment Commission highly appreciates the visit of the members of the House of Representatives and their great support for the continuation of the project and facilitating procedures to provide everything that serves citizens in Bismayah, and that the Commission is keen to resolve all problems with the South Korean Hanwha Company to resume work.
==========
Department of Relations and Media – National Investment Commission
1 – December – 2022