A group of the students of The University of Technology visit Bismayah New City site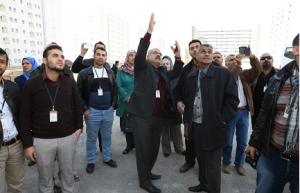 Bismayah project managing team organized a visit for a group of engineering students of the University of Technology to Bismayah project site in order to see the latest construction technologies adopted in building the housing units and infrastructures in the new city.
An official source in Hanawah Co. said that engineering post graduate, Master degree and PHD degree students were included in the visiting group, clearing that a technical presentation was delivered to them covered the mechanisms of administration adopted in running the pre casting factories and the modern technologies used in operating them and storing the products.
The second station for the group was the pre casting factories that include five main factories and 9 supporting ones with a design capacity of 80 housing unit/ day, these factories are considered as the biggest in the Middle East. The visit was extended to cover the achieved buildings in the project where questions and answers were exchanged between students and the project Iraqi and Korean engineers who gave the satisfying answers for all inquires.
Professors and student of the University of Technology showed their highest admiration in the methods followed to achieve the project assuring that such visits can add a lot to develop their information and field experience in construction sector.