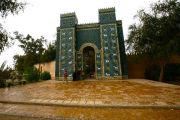 The Babylon Provincial Investment Commission (PIC) granted new licenses to a number of foreign and domestic investment companies.
The head of the Babylon PIC, Alaa Harba, stated in a press statement that the Commission has granted investment licenses to a number of companies under the new investment law.
One of the largest investment licenses was granted to Middle Euphrates to set up a factory for packaging of dates, valued at 538 million dinars. The project will require hiring more than 200 workers, and because Babylon is the center for cultivation of palm trees, this investment is expected to result in follow on projects to serve the producers of dates in the province. Mr. Harba expressed that he hopes this project contributes to the export of Iraqi dates in support of the national economy.
Without specifying name of the projects, there were other companies that received investment licenses for eight other projects.