Chairwoman of the National Investment Commission: Granting investment licenses is subject to competition and transparency and does not exclude anyone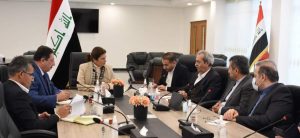 While  meeting with the President of the Iranian Chambers of Commerce, Industry and Mines Federation and his accompanying delegation
Chairman of the National Investment Commission: Granting investment licenses is subject to competition and transparency and does not exclude anyone
Chairman of the National Investment Commission, Suha Daoud Najjar, met on Tuesday with an economic delegation from the Islamic Republic of Iran headed by Mr. Gholam Hussein Shafei, President of the Chambers of Commerce, Industry and Mines Federation.
Najjar welcomed the guest delegation at the beginning of the meeting and gave a brief explanation of NIC work and its departments and the amended Investment Law No. 13 of 2006 and its advantages and guarantees for investors, stressing that Iraq is a promising country rich in natural resources, expertise and manpower, and doors are open to all investment companies wishing to Invest in Iraq in all sectors, and take the advantage of the provisions of the Investment Law
The NIC Chairwoman explained that granting investment licenses is, legally and economically, subject to standards and measures stipulated in the investment law, without exception, and is subject to the principle of competition and transparency.
The Iranian Chambers of Commerce, Industry and Mines Federation, Ghulam Hussein Shafei, thanked and appreciated the warm reception, pointing out that Iranian companies are looking forward to entering the Iraqi market in a number of fields, especially infrastructure, roads and bridges.
Shafei extended an official invitation to the Chairwoman of NIC to visit the Islamic Republic of Iran, hold an investment conference, and form a bilateral committee between the Iranian Investment Council and the National Investment Commission; To communicate and enhance cooperation between the two countries, and solve some outstanding problems of a number of Iranian investment companies operating in Iraq.