While attending a meeting at Karbala International Airport project site,
Chairwoman of The National Investment Commission Suha Daoud Najjar,: This project reflects the capability of local investors in implementing big projects.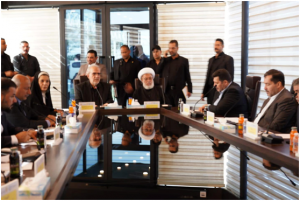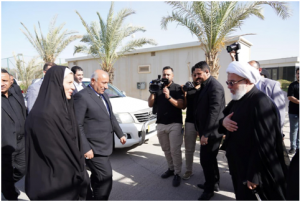 The Chairwoman of the National Investment Commission, Suha Daoud Najjar, confirmed that the Karbala International Airport project reflects the bright image of local investors and Iraqi competency capable of implementing big investment projects, noting that this project, sponsored by Husain Holy Shrine administration, will contribute directly to facilitating the entry of foreign visitors Karbala, especially in overcrowded events with millions of visitors like the fortieth visit.
All this was discussed during attending a meeting at the site of the Karbala International Airport project, in the presence of the legal guardian of the Husain Holy Shrine administration, His Eminence Sheikh Abdul Mahdi Al-Karbalai, the Governor of Karbala, Mr. Nassif Jassem Al-Khattabi, and a number of local officials, in addition to senior staff of NIC. Chairwoman of NIC indicated in her speech that this project will contribute in promoting
sustainable development, provide thousands of job opportunities and economic resources for national income. She also praised the efforts made to achieve the coal, promising that NIC will not save any efforts to overcome any challenges that may face the project.
It is worth mentioning that the Karbala International Airport project is sponsored by Imam Husain Holy Shrine administration and designed by the French (ADP) company, which has a long history in the field of airport designs. Manhal Al-Haboubi Engineering Consulting Office shall supervise the four –phases project. The first phase is 3 million passengers annually, the second is 6 million passengers, the third is 18 million passengers, and the last phase shall be 20 million passengers, hoping to start services of the first phase by the end of next year.
PR & Media Dept.
The National Investment Commission
24th Sept. 2022