Chairwoman of the National Investment Commission Suha Dawood Najjar receives the Jordanian Minister of Public Works and Housing and his accompanying delegation
•••••••••••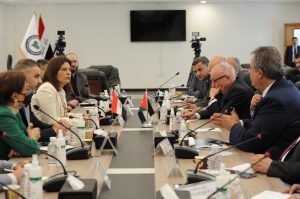 The Chairwoman of the National Investment Commission, Suha Daoud Najjar, received Thursday, September 23, 2021, the Jordanian Minister of Public Works and Housing, Mr. Yahya Al-Kasabi and his accompanying delegation.
A meeting was held between the two parties to discuss how to enhance joint economic and investment cooperation between the two countries and for Jordanian companies to get involved the current investment process in Iraq.
During the meeting, which was brought together by the visiting delegation, Chairwoman of the commission stressed the commission's keenness to increase cooperation with the Hashemite Kingdom of Jordan in the field of investment by granting Jordanian investment companies all the facilities and guarantees mentioned in the Investment Law No. 13 of 2006 and its amendments, indicating that there are many economic sectors in Iraq full of investment opportunities that can be exploited by the Jordan to achieve mutual interests, especially when the Jordanian party is in contact and familiar with the Iraqi economic statues and has great investment experiences in various investment sectors in Iraq, the most important of which is the renewable energy sector.
Jordanian Minister of Public Works and Housing Yahya Al-Kasabi expressed his thanks and appreciation for the warm reception and hospitality with which the visiting delegation was received since their arrival to Baghdad, describing this behavior as expected from this ancient country, stressing that Iraq is a fertile land for investment and that Jordanian companies have a serious desire in entering the promising Iraqi market, especially in the field of housing, where the Kingdom of Jordan is good at in terms of planning and implementation.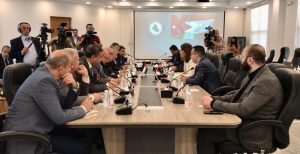 Chairwoman of the National Investment Commission and the advanced cadre, who attended the meeting, listened to the inquiries and suggestions of the economic delegation accompanying the guest minister, inquiries were clarified and proposals were discussed, in addition to the commission providing a brief explanation of the investment process and the investment map in Iraq, which represents the investment projects of the various economic sectors distributed over the governorates according to their needs
Public Relations and Information Dept. at the National Investment Commission
23 – September – 2021