In order to gurrantee Iraqi workforce rights
Hanawah Co. opens an office for Iraqi workers affairs next month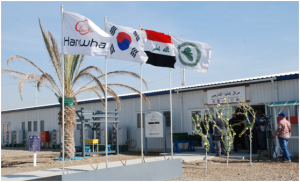 The vocational training center manager in Bismayah project site announced the date of opening the office of Iraqi workers affairs at the beginning of next February which will receive all complaints and suggestions of Iraqi workers in Bismayah project in order to find solutions for all problems through discussing them with the concerned sides in Hanawah co. and NIC.
Eng. Wisam Salah added to NIC media office that the training center will start a new training course within the few coming days for those willing to work in the project, stating that priority in employing shall be given to unemployed workers from al- Wehda district that is adjacent to the project site after filling an application in which the applicant should reveal his/her education obtained and social status.
Meanwhile, the training center manager mentioned that 2 specialized training courses had been organized by the center for the project workers the first regarding extending over load cables under the ground while the second was about programming for engineers and both courses lasted for 1 week in addition to holding training courses in concrete steel and carpentry templates that receive 60 trainees each time it is held with 170 thousand ID monthly.
Worth mentioning that Bismayah vocational training center is the first one opened by the Ministry of Labor and Social Affairs that is specialized in construction works in project sites with immediate employing for graduates after course completion.