With Storage Capasity of 53 thousand Piece of Concrete
Hanwah Company Constructs Warehouses in Bismayah city factories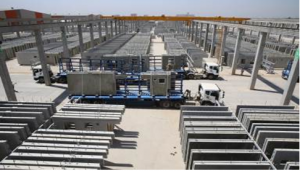 Hanwah Company for Construction and Engineering adopted the self- sufficiency sustem by constructing Bismayah factories complex which is considered the first of its kind in Iraq and the biggest in the world to be aligned with the immensity of Bismayah Project and the importance of implementing it in the perfect way . the complex consists of more than 14 main and subordinate factories in addition to other vital aminities.
The factories production of the materials used to construct the project represent a qualtative jump in the constructional industries in Iraq by means of quality and quantity as the external walls factory produces concrete panels that are sufficient to construct 80 housing units a day while the concrete pillers factory produces about 260 pillers a day the matter that pushed Hanwah company to construct one of the biggest and most important supplementary facility for the factories which is the storing warhouses.
A specialized technical source in Hanawah company said that the main function of the warehouses is storing the precasting concrete produced in the external walls factory, the internal incisors factory, seilings and floors factory and the light blocks factory in addition to special storage for the concrete pillers and the plastic pipes factories production.
From the other side, warehouses were designed to be divided in to 11 partitions, 4 of which are currently being used while the others will be used when reaching the work prime and it is worth to mention that the total storage capacity for the 11 partitions will be 53 thousand concrete piece .