Head of the Iraqi Parliament Receives the NIC Chairwoman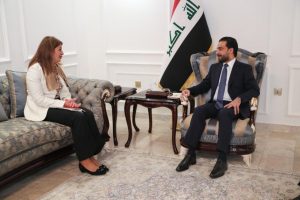 Head of the Iraqi Parliament, Mr, Muhammed al- Halboosi, received on Monday, 12.10.2020 the NIC Chairwomanm Suha Dawood Najar.
The meeting included reviewing NIC's plans and its investment policy for the coming period to attract successful investments and means of activating the investment sector by finding real investment projects and removing obstacles hindering investors.
Halboosi assured during the meeting that activating investment requires modifying valid laws, referring that the parliament is waiting for the suggested modifications to come from the government and assuring his entity full support to approve the modifications that can contribute to optimizing this vital sector which will reinforce the economy and create job opportunities.
He also discussed the necessity of activating investment in agricultural and industrial sectors, especially after the deterioration in oil prices, and the importance of supporting the Iraqi investor.