In the presence of the National Investment Commission Chairwoman
The launch of the First International Conference for Investment in Basra Governorate
         =========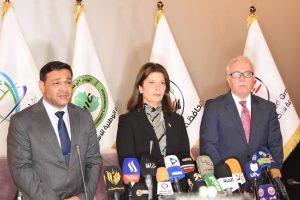 Today, Saturday, the First International Conference for investment was held in Basra, in the presence and participation of the Chairwoman of the National Investment Commission, Suha Daoud Najjar, under the slogan (For Basra, where the future is made).
In her speech at the opening of the conference, she confirmed that the investment projects implemented in Basra Governorate have a capital of more than 6 billion dollars, projects are in the process of being granted investment licenses estimated at 4 billion dollars, indicating that these huge sums put by foreign and local investors in investment projects in the province of Basra demonstrate the economic importance of the province and its significant global location, especially since these projects have been distributed in various economic sectors, which achieves diversification in the province's economy and not relying on oil projects only.
Najjar praised the efforts made by the Basra Investment Commission and local government officials to achieve theseremarkable percentages of completed projects in the province, noting that this matter calls for optimism for a promising future for Basra province in a way that is commensurate with its great importance and history.
Chairwoman of the commission added that the expansion of investment projects by the private sector and the addition of new production lines to their projects is a clear evidence of achieving profitability from these projects in a way that benefits the governorate as well and sends a message to those wishing to invest in the governorate that the investment opportunities in the city are promising and achieve the desired economic feasibility. .
She called for diversifying the economic base by going to implement projects in the industrial and service sectors and other sectors due to the Iraqi market's need and the existence of the ingredients for successful implementation.
The conference was attended by a number of diplomatic missions, a representative of the United Nations, a number of governorate officials, heads of provinces investment commissions, businessmen and investors.
===========
Public Relations and Media Dept. at the National Investment Commission
  7 – August – 2021