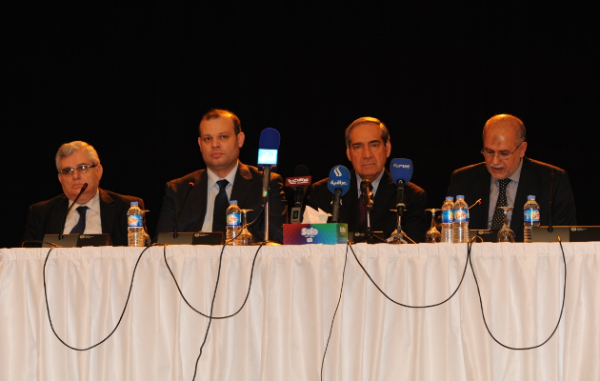 Chairman of the National Investment .. We seek to achieve economic integration between the two countries
The head of the National Investment Commission, Dr. Sami Raouf al-Araji, the pursuit of Iraq and Egypt to achieve economic integration between them and increase trade exchange and the establishment of investment partnerships strategy to serve the interests of the two brotherly countries and bring them economic prosperity, praising the capabilities of Economic enjoyed by the Republic of Egypt and the possibility of investment to participate in the development process and rebuilding Iraq.
This came during chaired by the Iraqi Business Forum – Egyptian held in Baghdad for the period (4-5/3/2013) on the sidelines of a state visit, Egyptian Prime Minister Hisham Qandil to Iraq in the presence of Minister of Industry and Foreign Trade Hatem Saleh, as well as 70 of the businessman Egyptians and a number of officials in the Iraqi government and businessmen representing the Iraqi private sector.
The President of the Commission in front of the Egyptian companies a number of investment opportunities in various economic sectors, including (oil and gas, agriculture, industry, tourism and health .. etc), stressing that the Commission has been able to overcome many of the obstacles to the entry of investors to the Iraqi market, including visa, which has become enjoy great facilities, as well as to give them all the facilities and guarantees granted to them under the Investment Law No. 13 of to Ssna 2006 and its amendments.
Of Japinh praised the Minister of Industry and Foreign Trade Engineer Hatem Saleh warmly Alasagbal and hospitality which was met by the Egyptian delegation by the Iraqi government and the National Investment Commission, noting that the Iraqi market is promising and attractive to investors and that Egyptian companies willing to engage and contribute to the investment process through the establishment of projects, strategic and economic partnerships great with the Iraqi private sector.
The forum witnessed the signing of a memorandum of cooperation in the field of investment in the housing sector between the National Investment Commission and the Arab Contractors Company for the purpose of the boot to start negotiations to build housing units in Iraq by the Egyptian investment companies.
This was held on the sidelines of the forum workshops between businessmen in both countries, where she discussed the those workshops possibility of investment and set up projects in five key sectors (engineering goods, construction materials, agricultural crops, oil and chemical products, food products).