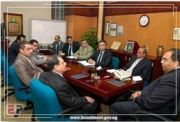 The Egyptian company, Aura Skom Al-Masria, expressed readiness and willingness to implement low income housing projects in Iraq once available land is provided. This annoucement came during the visit of an Iraqi delegation to Egypt, headed by Dr. Adnan Ramahi Director, General of Legal Affairs at the Iraqi National Investment Commission (NIC).
The Iraqi delegation was briefed on the various aspects of the Egyptian investment experience, including the residential and tourism projects implemented by the company. Discussion was held around ideas to develop areas of integrated residential homes built with different construction models that incorporate lost cost housing materials.
Dr. Adnan Ramahi also met with Mr. Mahmoud Mohi El Din, Minister of Investment regarding the preliminary version of the training program to be held with the Egyptian Investment Authority on the topics of financial controls, securities and insurance. This training is in line with memoranda of understanding signed between the two countries that included training (480) staff.
The Iraqi delegation also met with a number of other large investors interested in investing in Iraq with the purpose of showcasing the Iraqi investment law and available investment opportunities. Dreamland Group and representatives from Cleopatra and Al-Hisan companies expressed their willingness and enthusiasm to invest in Iraq in a variety of areas including housing complexes, hospitals, factories, and agriculture projects if land were to be made available.
Once conditions regarding land ownership, construction financing and mortgage financing are laid out Egypt expects to be the leading country in the Middle East involved in housing project investments.