In Appreciation of his prominent role in running the investment process in Iraq
Leaks News Agency delivers NIC Chairman the excellence sign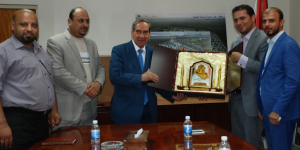 Leaks News Agency delivered NIC Chairman, Dr. Sami al- Araji the Excellence sign on Thursday Jun.11.2015, in appreciation of his role in encouraging investment in Iraq and setting up the economic development basis through running the national investment process.
During the event, Al- Araji stressed, through his speech for the occasion, the importance of the media role in clarifying truths and announcing them to the public from the reliable sources in addition to its role in supporting the governmental entities, especially the economic ones, through spot lighting the strategic projects that serve people. Dr. Sami highly praised the exceptional efforts made by the Independent news agencies to evaluate the performance of the national figures in serving the public.
Mr. Sarmad al- Qasim- Editor in Chief of the agency, in his turn, assured that this honoring came after Dr. Sami's obtaining 480 thousand votes in the referendum launched by the agency, on its 25 branch news agencies' websites, for the best governmental figure running an independent entity, adding that there were 4 more winning figures who are ( H. E Mr. Nuri al- Maliki- First Vice President, Shekh Qais al- Khazaali, Mr. Hadi al- Ameri – IP member, and Saied Muqtada al- Sader).
The Honorium event was also attended by the Chairman and Vice Chairman of the Independent News Agencies Union with a number of the editors in chief of the union's 25 member agencies.