Ministers' Council Agrees to Omit the Sponsor Condition on Bismayah Loans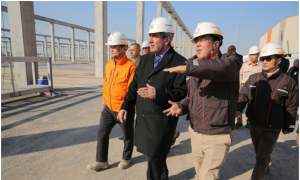 The Ministers' Council announced in its regular session for Tuesday 30.05.2017 presided by H.E Prime Minister, Haider Al- Abadi the approval to omit the sponsor condition from the terms of granting Bismayah project loans "exclusively" leaving only the condition of mortgaging the housing unit for one of the 3 banks (Rafidein, Rasheed, TBI).
Dr. Al- Araji, NIC Chairman said in an official statement that the Ministers' Council approval to omit this condition comes to support the project and to facilitate the purchase process for citizens willing to obtain a housing unit in Bismayah and to help the government's efforts to meet the increasing popular demand for housing.
Calling for citizens to seize the opportunity and hurry to register in the project which is anticipating a big rise in marketing in the coming stages.
Ministers' Council had already agreed in a previous session in the beginning of the year to grant loans for citizens willing to buy housing units in Bismayah project from the banks (Rafidein, Rasheed, TBI) according to terms and regulations announced consisted that the loan should not exceed 75 million ID with interest rate not exceeding 4% with monthly installments for 15 years.