NIC Chairwoman, Suha Dawood najar, stresses NIC insistence on reviving the Marshes area
Najar: NIC seeks granting investment opportunities for reliable companies to revive the Marshes area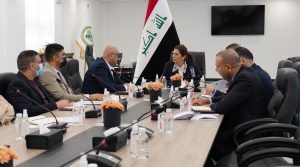 NIC Chairwoman, Suha Dawood Najar, stressed NIC insistence on reviving the Marshes area to be ready for receiving tourists through granting investment opportunities for reliable companies ready to achieve the meant goal.
This came during her excellency presiding a meeting with  DG of the Marshes and wet lands reviving Center that is related to the Ministry of Water Resources, Mr. Hussein Ali Hussein and the accompanying deputation.
The assemblers discussed the possibility of constructing projects in the Marshes area aiming at reviving tourism in this area whereas NIC Chairwoman required the deputation to provide NIC with the measures and restrictions requested to construct investment projects in the Marshes area that comply with the UNSCO regulations.
PR and Media Department of the National Investment Commission
16.Dec. 2021