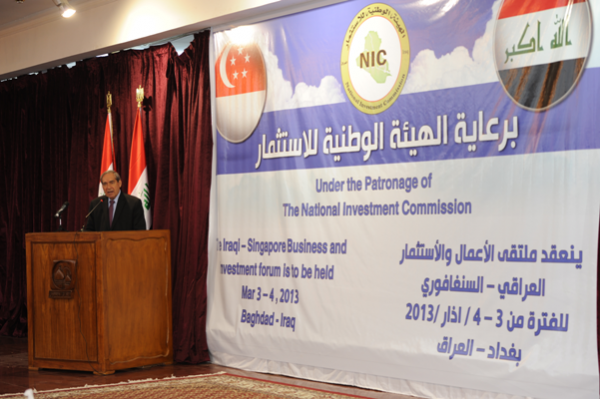 With the presence of Deputy Prime Minister Dr. Ruz Nuri Shawis
With the presence of Deputy Prime Minister Dr. Ruz Nuri Shawis NIC held in Baghdad the Iraqi-Singapore Business and Investment forum for the period 3-4/3/2013 in order to brief the Singapore delegation on investment opportunities in Iraq, as well as promote economic and commercial exchange between the two countries. The Deputy Prime Minister Dr. Ruz Nuri Shawis confirmed, in an opening speech, that the Iraqi Government is working to support the private sector to be involved in the development process through a number of amendments of laws in forced to grant the investors more facilities to enter the investment process, expressing the Iraqi Government's desire to create strategic economic partnerships in all economic sectors with the Republic of Singapore. From his part the NIC Chairman, Dr. Sami al-Araji, in his speech welcomed the guest delegation presenting the investment and development opportunities in Iraq urging the Singapore companies to participate in the investment process in different economic sectors to serve the interests of the two countries.
Al-Araji showed that NIC will provide, to the investor who wishes to work in Iraq, all privileges and guarantees ensured by investment law no. 13 for the year 2006 as amended indicating that NIC as a part of its quest to create an investment climate after the completion of the second amendment which is in its way to legislation that will provide more facilities to investors to develop the investment work in the country. He also invited the Singapore companies to make investment partnerships contracts with the Iraqi private sector, referring that Singapore is economically developed country especially in financial and banking facilities sectors , in addition to the Singapore companies' mostly fine characteristics in the field of housing units construction, infrastructure , ports and airports and so on.
From his part the Singapore's non- resident ambassador, Mr. Zainol Rashid, said that his countries' companies have the desire to enter the Iraqi market to invest especially in oil and gas sectors in addition to the construction of airports, infrastructure and commercial exchange between two countries. Then Mr. Rashid added that Singapore has enough experience to develop and promote the new Iraqi economy reviewing his country desire to increase the commercial exchange between the two countries especially that Singapore relies on Iraqi oil by 95%.
On the sidelines of the two day forum, workshops was held between the Iraqi private sector represented by (Federation of Chambers of commerce, Federation of Industries, Businessmen Union, Iraqi National Business Council, Association of Iraqi Banks, Economic Community and Federation of Iraqi contractors) and the Singaporean counterparts to exchange ideas and point of view as well as studying the possibilities to enhance partnerships to implement the project for the good of the two countries.