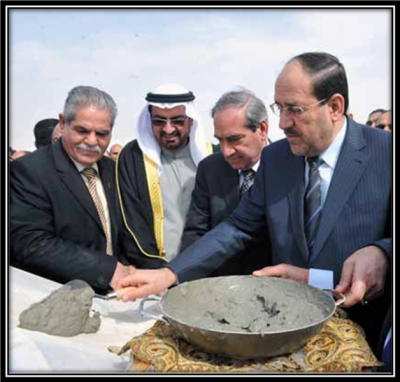 Under the patronage of H.E Prime Minister Nuri Al
The National Investment Commission Holds a Celebration to Sign Agreement and Lay down the Foundation Stone for Diffaf Karbala Residential Project
Under the patronage of the H.E Prime Minister Nuri al- Maliki the National Investment Commission held a celebration to sign agreement and put the foundation stone for Diffaf Karbala residential project on Thursday 28/2/2013 in Holy Karbala city with the presence of the Governor of Karbala ,Chairman and members of the provincial council, members of parliament , UAE Ambassador in Iraq, Executive Director of the National Holding Group, CEO of Bloom Co. and a number of Government officials and Businessmen. The Prime Minister , in his speech on this occasion, praised the efforts of NIC and the executing company to overcome all difficulties that had faced the project expressing the Iraqi need to such strategic projects that will serve the country and stimulate its economy calling the legislative institutions to provide a legislative and legal environment to attract capitals and global investment indicating that his government is working to provide everything that contributes to propel the economy forward .
From his part the chairman of NIC Sami al- Araji showed his gratitude and appreciation to Prime Minister for his continued support to the development and investment process in the country especially strategic projects such as Diffaf Karbala and Bismayia New city projects. Al- Araji also indicated that the project's area is 20 square kilometers that includes (40) thousand housing units and will be implemented through four stages during eight years with full infrastructure services and public recreational facilities.
The Governor of Karbala, Amal Alher, in his turn said that this project is a big achievement for the province which will reduce the housing crisis and contribute to provide job opportunities for the people of the province.
In the other hand UAE Ambassador, Abdullah Al-Shehhi, assured that the project will be encouraging and attractive to investors in Karbala and that the UAE company is the best to represent the United Arab Emirates in Iraq. On the other hand the Chief Executive of Emirates National Holding Company, Ghassan Abdul Karim, said that Bloom Properties which belong to the Holding Group is one of the leading companies in the United Arab Emirates and has the interest to invest in industry , urban development , general trade and oil and gas sectors in Iraq.