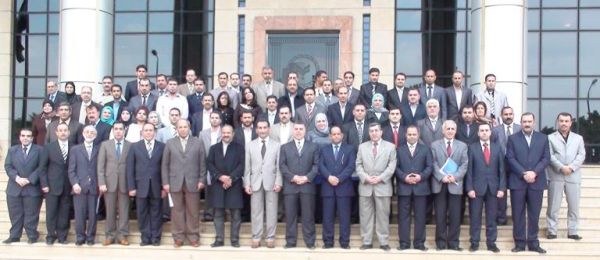 During an official ceremony in the facility of the Egyptian Ministry of Investment
National Investment Commission concludes the program for the training of its staff
In Cairo
The ninth session was the last one of the training program of the National Investment Commission staff in the Egyptian capital, Cairo. The program was agreed on according to the memorandum of understanding signed by the chairman of the National Investment Commission, Dr. Sami R. Al-Araji, representative of the Iraqi government with the Egyptian Minister of Investment Dr. Mohiuddin representatives of the Egyptian government in February for 2010.
The economic advisor at the National Investment Commission , Mr. Abdullah Al-Bandar, head of the Iraqi delegation said that the aim of participating in these courses is to see the experiences of other countries in the field of investment and management of free zones and investment zones and take advantage of the extensive experience owned by these countries, as well as the exchange of views, that can be of benefit to the investment process currently in Iraq in general, especially when Egypt has a long experience in this area that can extend to four decades.
Al- Bandar added, that these courses are part of the technical investment cooperation between Egypt and Iraq, and more than (488) employees working in many state institutions graduated from these courses, including in addition to the National Investment Commission, the Stock Exchange Commission, Baghdad Mayoralty and investment commissions in the provinces.
Iraq's Ambassador to the Republic of Egypt Mr. Nizar Khairalla said that the Iraqi government aims at the rehabilitation of Iraqi cadres to be able of promoting the institutional work in the country to boost the Iraqi economy, expressing the Iraqi government appreciation to Egypt for their support and attribution to the Iraqi delegations visiting Egypt for training.
Meanwhile, Chairman of the Egyptian Investment Commission, Mr. Osama Saleh, said that the training programs that have been implemented, included a specialized program at the Center for Leadership Development with respect to management strategy, government and social responsibility, in addition to the program for the development of investment services, creation of business environment, promoting investment areas and investment policy in the provinces and how to explore investment opportunities in the provinces, indicating that trainees visited the main Investment Services Complex and some of its main branches in the provinces.