National Investment Commission delivers the first patch of units to the owners in Bismayah City Project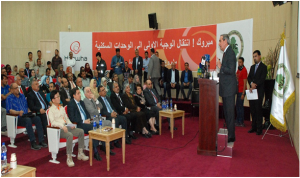 Sun the 3rd April 2016 was NIC first day to deliver the first patch of Bismayah 3000 units to registers during a ceremony attended by a number of Iraqi Parliament members, director generals and officials in the project site.
Dr. Al Araji, Chairman of the National Investment Commission mentioned in his speech difficulties and challenges that faced the project starting from the national housing project which was committed to achieve one million unit all over Iraq. NIC launched this project after the Ministry of Planning estimation of Iraq's 2 million units' need.
He said the beginning was Bismayah city project which represents a real partnership between investors, governmental banks and citizens. Registers paid the first 25% of the project value to the investor as an assuring initial provided paying 75% by Hanawah within 7 years to build 25 thousand units annually.
He confirmed that this start is a good one representing great efforts from relevant Iraqi ministries, the General Commission of Construction, specialized centers in Iraqi universities and Hanawah technical experience which saved no effort to move forward with this project.
He also added that an Iraqi- Korean committee was created to organize moving owners to their units starting next May.
Mr. Sun Kwan Yo, Hanawah representative, confirmed that the company will build Bismayah according to international standards and meet residents' urban needs. He said the city shall be an example in the Middle East.
Keys were delivered to owners during the ceremony followed by a tour in the units and factories.
NIC will continue keys delivery to the rest of the owners starting Tus. The 5th April 2016 according to time table that was published in NIC website and facebook 250-300 register a day for 10 days.