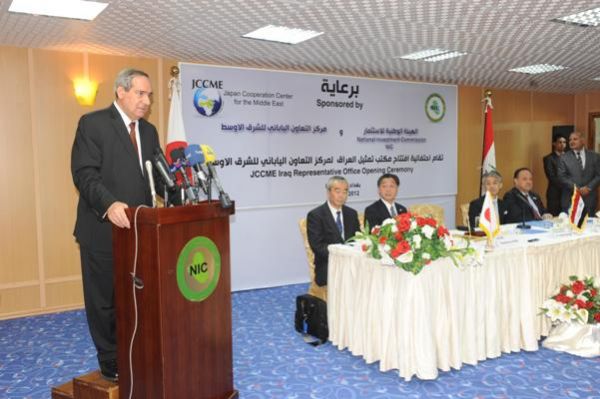 For the Purpose of Facilitating the Work of Japanese Companies in
NIC embraced the ceremony of opening the representing office of the Japanese Cooperation Center in the Middle East on Jun.18.2012 which will facilitate the entrance of the Japanese companies into Iraq to invest in the various economic sectors in addition to conducting development programs for the Iraqi human resources through holding the training courses, studies and researches.
NIC Chairman, Dr. Sami Al- Araji in his speech given during the ceremony said that the Iraqi Prime Minister visit to Japan during last November opened wide gates for the economic cooperation between the two countries and the opening of JCCME office is the result of this cooperation.
Al- Araji clarified that the JCCME office will be the start for the reactivation of the Iraqi- Japanese economic relations on investment and trade levels and that the NIC will provide all facilities and privileges guaranteed by the Iraqi valid laws to make the work of the Japanese companies a success inside Iraq.
NIC chairman also referred during signing the MOU between the NIC and JCCME on the sidelines of the celebration ceremony to the desire shown by the Japanese companies to enter the Iraqi market
JCCME Chairman, Mr. Tadatsuna Koda asserted that the JCCME office will open new cooperation horizons with Iraq which is economically considered one of the most important countries in the region and that the Japanese companies have a strong serious desire to enter the Iraqi market and to participate in the reconstruction process matters that had been discussed during the seminar held last April on Iraq Work held by the JCCME in which more than 100 Japanese company had participated.
Japanese Ambassador, Mr. Susumo Hasegawa assured through his speech that the economic relations between Iraq and Japan evolved significantly especially after the last visit of the Iraqi Prime Minister to Japan and holding the economic joint committee meetings in addition to the agreements signed concerning the Japanese loan of (750 million $) for 4 new projects certifying that this center will be for Iraqi and Japanese businessmen and for concluding investment partnerships in coordination with the NIC
DG assistant of the International trade Policies department of the Japanese Ministry of trade and Industry stated that Iraq has a promising market and it has entered new era of economic development after the postwar reconstruction stage just like what had Japan witnessed during the reconstruction process that had followed the second world war adding that Japan will provide all support of expertise and technologies for the success of Iraq reconstruction process in which Japanese companies shall participate through big investments
Mr. Abbas Shmara, Vice Chairman of Iraqi Businessmen Council expressed the Iraqi private sector desire to conclude strategic partnerships with their Japanese counterparts praising the role of the Japanese companies during the 70s and 80s of the last century putting its touches on the technological and architectural development in all Iraqi cities expressing his hope to see these companies again in Iraq to participate in the reconstruction process
Worth mentioning that the NIC Chairman, Dr. Sami Al- Araji signed on behalf of the Iraqi government on the agreement of Promoting and Protecting investment between Iraq and Japan which was also signed by the Japanese Ambassador in Baghdad on behalf of the Japanese government on Jun.7. 2012 the agreement which aims at attracting Japanese companies to enter the Iraqi market and participate in the reconstruction process