With the attendance of the Deputy Prime Minister for Energy affairs
NIC and Hanawah South Korean Company sign Bismayah New City infrastructure contract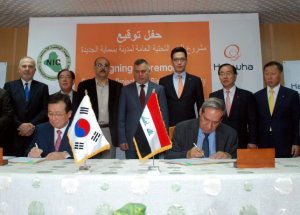 A contract for achieving Bismayah city infrastructure and external services had been signed Sunday 5th of April.15 between the Iraqi National Investment Commission and Hanawah South Korean Company.
The event was attended by the Iraqi Deputy Prime Minister for Energy affairs, Mr. Baha al- Araji, Head of the Parliamentary Committee for Economy and Investment, Mr. Jawad al- Polani and Bismayah project supervising technical committee.
Mr. Baha al- Araji, through his speech in the event, stressed the importance of Bismayah project in solving the housing crisis in Baghdad, praising the NIC role in pushing investment wheel in the whole country and its role in supervising this project in particular.
Deputy Prime Minister also referred to a number of factors that contributed in hindering the investment process in Iraq including the complications found in the investment law in addition to the region exceptional conditions. He added that often crisis participate in creating successful states and economies and Iraq is now suffering of financial crisis, the matter that led all concerned officials to think about activating the most important economic substitute which is "Investment", referring to a bunch of important decisions taken by the Council of Ministers in this regard and especially in the Oil and Energy sector that included accelerating visa granting to be obtained within a period not exceeding 72 hours with facilitating the procedures of customs and entering materials and machines for investment purposes.
In his turn, Mr. Jawad al- Polani, head of the Parliamentary Committee of Economy and Investment declared that continuing a big company like Hanawah in working in such a huge project like Bismayah is sending a message to companies willing to invest in our country that Iraq is a fertile investment environment, he also called for forming a joint operations room for supervising investment projects in all provinces that can specify shortages and work together to remove them.
Dr. Sami al- Araji, NIC Chairman introduced through his speech with which the event started a detailed explanation of the services file and what had accompanied it since 2012 until the contract signing moment.
NIC Chairman highly appreciated the role of the Council of Ministers and the Iraqi Parliament in allocating the needed funds from 2015 budget to achieve Bismayah city services in the way that actively participate in constructing a completely modern city for more than 600 thousand people which can be considered as a model to be followed in establishing the 1 million housing unit project in all Iraqi provinces.
Al- Araji also declared that the current plan is to deliver 7000 housing unit with full services at the end of this year while the process of building new units is moving forward according to the main project plan to be delivered in a successive manner.
Hanawah Co. Chairman pledged, in his turn, that his company will do its best and will work day and night to achieve its commitment according to the agreed specifications and timings, adding that signing this new contract shall make the city enjoy all needed infrastructure like electricity, water and sewage treatment in addition to schools, hospitals and clinks, police stations and civil defense institutions…etc.
The event was also attended by a number of high officials in Hanawah South Korean Company who arrived to Baghdad particularly to attend the signature of the contract in addition to the Directors Generals in the National Investment Commission.