NIC: Baghdad International Fair exhibiting period had witnessed high demand for Bismayah project's housing units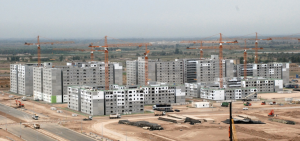 NIC pavilion in Baghdad International Fair which was held for the period (20-29/10/2014) had witnessed big number of visitors of those willing to register to buy Bismayah housing units.
An NIC authorized source stated that Bismayah registration management office in coordination with the NIC media office shall work together to conduct field visits to Bismayah site for people willing to know more about how work is going there before buying a housing unit in the said project.
NIC pavilion also included booths for some other big important projects supervised by NIC like al- Mustaqbal city with 30 thousand housing units and Janat Baghdad city with 20 thousand housing units which are to be constructed in Baghdad while Dhifaf Karbala project with 40 thousand units in Karbala province and Basra New city project with 100 thousand units in Basra province.
NIC Chairman. Dr, Sami al- Araji, and during his inspection visit to the Fair, described the NIC participation in such economic activities as a fundamental pillar for investment promotion process in Iraq inviting companies to invest available investment opportunities in the country and the big incentives and facilitations granted by investment law No. 13 for the year 2006 as amended.
Meanwhile, NIC and implementing companies representatives submitted elaborated explanations about all work phases, mechanisms of implementation and ways of registration in the projects.
A number of officials and global companies representatives visited the NIC pavilion and viewed the exhibited investment projects and the available investment opportunities in the different sectors and discussed the possibility of opening new cooperation horizons between the two sides.
Baghdad International Fair also witnessed the participation of the provincial investment commissions as (Baghdad, Babylon, Karbala, Salahadeen, Dayala, Diwanyia, Thi Qar, Wasit) where implemented and under construction projects in these provinces were exhibited in addition to promoting the available investment opportunities in various sectors like commercial, health, housing, and industrial sectors while preliminary agreements were signed with some visiting companies to exchange visits.