During a Visit to Kerbala International Airport Project Site
NIC Chair Woman: Implementing the Strategic Projects Gives Positive Momentum for the Iraqi Economy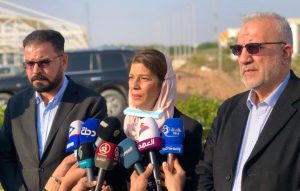 NIC Chair Woman, Suha Dawood Najar assured that implementing strategic investment projects like Kerbala International Airport project can give positive momentum for the Iraqi economy and encourage investors to participate in the current investment process, stressing that NIC is strongly supporting all efforts aiming at implementing such projects all over the Iraqi provinces.
This came during a visit by NIC Chair Woman to Kerbala on Sunday 20.12.2020 and was received by the General Secretary of the Holy Hussieny Threshold establishment, Haj Hassan when a detailed review had been introduced about the project and the achievement rates. In her turn the NIC Chairman highly praised the progress reached confirming that it contributes to the needs of the Iraqi Economy of infrastructure and strategic projects to gear up with the reality and that this project can serve the whole area in general and Kerbala province in particular.
Najar's visit included also a visit to the Holy Husseiny Threshold premises where she met with the General Secretary Sheikh Abdul Mahdi Al- Kerbalaey and highly appreciated the role of the holy thresholds establishments in constructing the big projects that benefits the public in Kerbala province.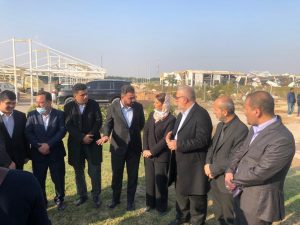 Al- Kerbalaey in his turn praised the role of NIC in moving the investment wheel in Iraq and the importance of that in the economic development, referring to the necessity of constructing the big strategic projects in Kerbala especially Kerbala International Airport and al- Hussein Hospital for cancers for the job opportunities they can provide and the services they can submit to the province public.
The project manager, Eng. Mustafa Ajeena revealed that the achievement rates have reached to 32% adding that the rate shall raise steadily with receiving the first installment of the loan credited for the project which sums 150 billion ID out of the original total of 300 billion ID as it will be granted in installments according to achievement rates that shall be evaluated by an engineering committee from the Rafidain Bank (the funder).
He added that the airport is constructed according to the designs of the French specialized company with total capacity of 5.2 million passengers a year after its completion within a period of 2 years in maximum in case of resilient funding by the bank, taking in to consideration raising the capacity to 20 million passengers a year within the next 20 years, stating that there are five consulting companies of different nationalities supervising the implementation of the project which is also supervised by Eng. Menhal Al- habobi, former Baghad General Secretary.