In a series of meetings with the head of PICs
NIC Chair Woman… Rejuvenating of Provinces by Realistic Executable Projects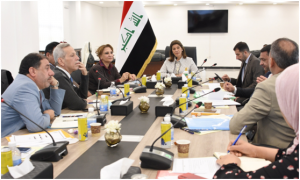 NIC Chair Woman, Suha Dawood Najar, assured that the investment projects intended to be offered for investment in the Iraqi provinces the beginning of the coming year 2021 must seek success and implementation as a final result and to be harmonized with the actual needs of the population of each province through fragmenting projects according to executable mechanism based upon economic profits and a successful feasibility study with obtaining sectoral sides approvals.
She added during her meeting with the heads of Basrah, Diwaniyah, Babil and Missan PICs that NIC is working on introducing an official legal entity to have the representations of all concerned governmental sides and to be in charge of studying lands allocations, the matter that is considered as one of the biggest problems that face investment projects.
A review for the most prominent and vital projects in the four provinces was submitted by the heads of the PICs who explained the reasons behind the halted ones taking in to consideration the privacy of each province and its identity (Agricultural, Oil, Industrial) with donning unblinking attention to the housing projects according to the need in every province for the housing units in a way that addresses the experiment of Bismayah city project and in direct coordination with NIC and the concerned  Iraqi Ministries.
Heads of PICs also submitted a number of suggestions for the support they deem necessary by NIC and other Sectoral sides to get economic reality rebounded in their provinces.
The meeting was attended by the NIC DG of Economic Affairs and Provincial Coordination section manager.