Continuing the meetings with the Heads of PICs
NIC Chair Woman… the Coming year shall witness announcing lots of new Investment Opportunities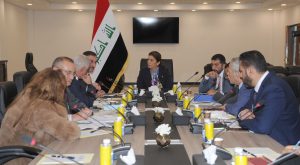 NIC Chair Woman, Suha Dawood Najar, met with a number of the Heads of PICs (ANbar, Nineveh, Kirkuk, and Saladin) on Wednesday 23.12.2020.
During the meeting several issues and obstacles hindering the investment process in the four provinces that had witnessed military operations against terrorist groups had been discussed.
Najar said that the government is paying special attention to these provinces for the great amount of looting done by groups of darkness and their urgent need for support, reconstruction and moving the wheel of their economy.
NIC Chair Woman stated that the first quarter of the year 2021 shall witness announcing lots of new investment opportunities in all provinces according to investment law no. 13 for the year 2006 and its amendments, referring that NIC have new visions for the provinces by promoting the resources they have to make the investment process a success in Iraq.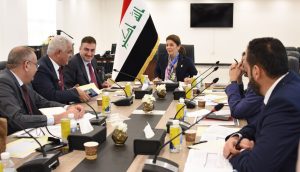 Heads of PICs submitted a number of suggestions for the support they deem required from NIC and other sectoral sides to strengthen the economic reality in their provinces.
The meeting was also attends by NIC DGs of Economic Affairs dept. Legal Affairs dept. and the head of Provincial Coordination Section.