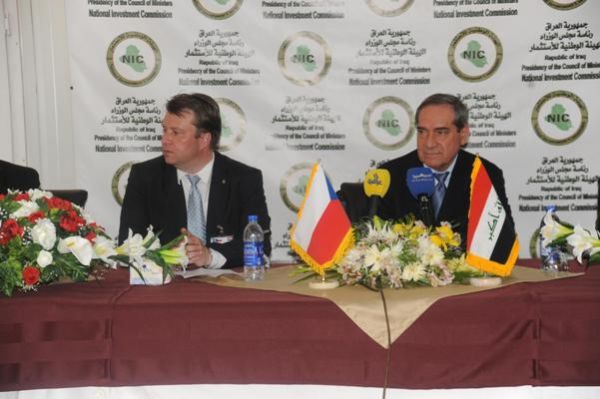 Under the Patronage of H.E Prime Minister Nuri Al- Maliki
NIC Chairman Announces the Establishment of the Iraqi- Czech Joint Business Council
H.E Prime Minister Nuri Al- Maliki assured the serious desire of the Government of Iraq to reinforce means of cooperation with the Czech Republic on all levels considering this visit as a qualitative change in bilateral relations that can open cooperation gates in many fields to be reinforced by a high level Iraqi delegation visit to Czech republic.
This came during the works of the Iraqi- Czech Business and Investment Forum held in Baghdad during the period 23-24. May.2011 when the Iraqi Prime Minister assured that the government of Iraq is working hard to create attracting investment environment that is special in the region through preparing all security, legislative and logistic arrangements.
The Czech Prime Minister in his turn assured his country's readiness to provide technical experiences required in all economic fields especially with the distinguished position Czech Republic is occupying now within the European Union and the world.
The Czech Prime Minister also stressed the readiness of the Czech companies to enter the Iraqi market with the most updated technologies that can solve a number of problems that are facing the Iraqi economy after having an agreement between the two sides, he also added that Iraq and Czech had passed through the same path for freedom and democracy, the matter that will widely open the doors between the two countries with the support of the two governments.
NIC Chairman, Dr. Sami Al- Araji announced the establishment of the Iraqi- Czech Business council on the sidelines of the discussions made during the enlarged meeting between the Iraqi and Czech businessmen aiming at fostering the economic relations between the two countries in a way that serves concluding economic partnerships.
NIC Chairman presented during the forum the available investment opportunities in Iraq in ten economic sectors (Oil & Gas, Industry, Agriculture, Housing, Telecommunications, Education, Health, Electricity, Transport and Tourism), he also explained the investment formats adopted in Iraq which includes direct investment according to investment law No. 13 of the year 2006 and its amendments or the partnerships between Czech companies and businessmen on one side and Iraqi public and private sectors on the other side in addition to the partnership between the Iraqi and Czech private sectors to participate in the economic reform process of the public companies.
NIC Chairman also said that Iraq is trying to follow the Czech Republic experience in transferring to the market economy as Iraq is experiencing today a big experiment in this direction through issuing laws, instructions and statutes in order to transfer from the authoritarian economy into the market economy within a specified period of time.
On the sidelines of the forum, a series of economic meetings between businessmen from both sides were held while the major event was attended by the Czech Minister of Industry and Trade.