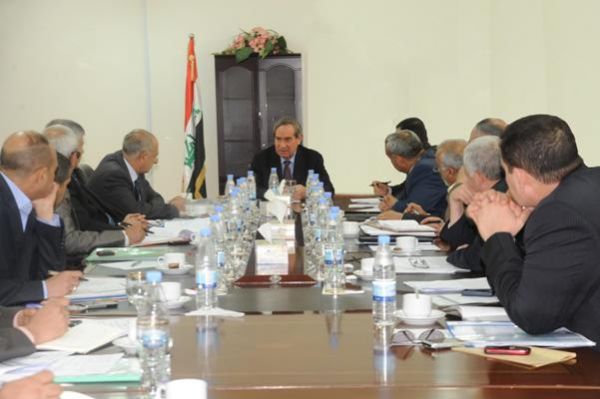 During His Meeting PICs Chairmen and Representatives
NIC Chairman Assures the Necessity of Establishing a Unified Vision for Investment requirements in Iraq
NIC Chairman Dr. Sami Al- Araji assured the necessity of establishing a unified vision and a clear picture for the investment requirements in each province through continuous coordination between all concerned departments in the province represented by the provincial councils and investment commissions and committees adding that investment is not a substitute for the capital budget but is a complementary and supporting to reach the desired goal.
He also overviewed during his meeting with the PICs chairmen problems and obstacles facing investment committees in the provinces with the suggestions to eliminate these obstacles assuring the importance of getting these committees acquainted with the investment plans in the provinces to show their opinions and submit the needed support since they are considered as part of the investment process.
Dr. Araji followed up the details of applying the first amendment (1) for the year 2011 on the statute of selling and leasing the state owned lands for investment purposes number (7) for the year 2010 after publicizing it to all PICs which includes possessing land for housing purposes by investor freely provided that the land value is not estimated when selling housing units to Iraqi people , while leasing state lands with tiny rates of its real value in other sectors the matter that represents encouraging incentive to invest in Iraq.
Within the framework of following up preparing lands for investment purposes, Dr. Sami made clear that NIC is currently following up problems that hinders allocating lands with the possessing sides and finding the suitable solutions for these problems according to the valid laws in coordination with the concerned departments represented by the Ministries of Municipalities and Finance referring to the meetings to be held in this regard as Mr. Saleh
Al- Mutlaq – Deputy Prime Minister will meet in the 11th of the current Month with the
attendance of the State Minister for Provincial Affairs and NIC chairman with the provincial investment commissions and committees, while another enlarged meeting will be held the next day with the Minister of Finance and other officials concerned with lands allocation issue in a serious step to solve all problems facing allocating lands for investment purposes.