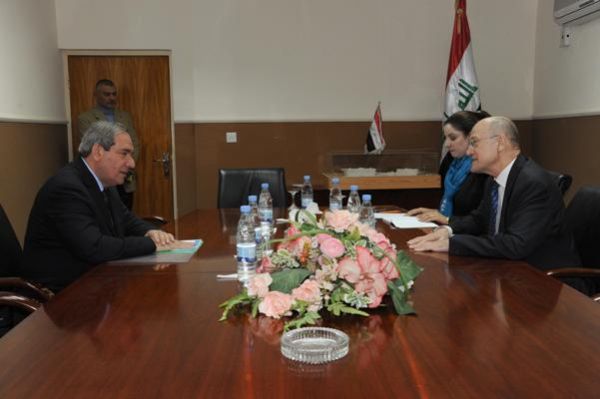 During receiving the Netherlands Ambassador to Baghdad
NIC Chairman Confirms the Commission's Willingness to create Huge Economic Partnerships between Iraq & Netherlands
NIC Chairman, Dr. Sami Al- Araji confirmed, during his meeting with the Netherlands Ambassador to Baghdad, the National Investment Commission's willingness to create huge economic partnerships between Iraq and Netherlands in various sectors according to an investment strategy aiming at reinforcing the economic relations between the two friendly countries.
Dr. Al- Araji said during the meeting that the commission is ready to grant investors willing to invest in Iraq all facilities and incentives guaranteed by Iraqi investment law No. 13 for the year 2006 and its amendments, referring that the Iraqi market is a promising one and that Iraq has a very fertile soil for planting great investments in addition to the need of the Iraqi public and private sectors to the Netherlands companies expertise in the diverse economic fields like (Agriculture, Water resources and infrastructure projects).
In his turn, the Netherlands Ambassador to Baghdad confirmed his country's government desire to reinforce the bilateral economic relations and to utilize the available opportunities to enter the Iraqi market in a way that serves the two countries benefits.