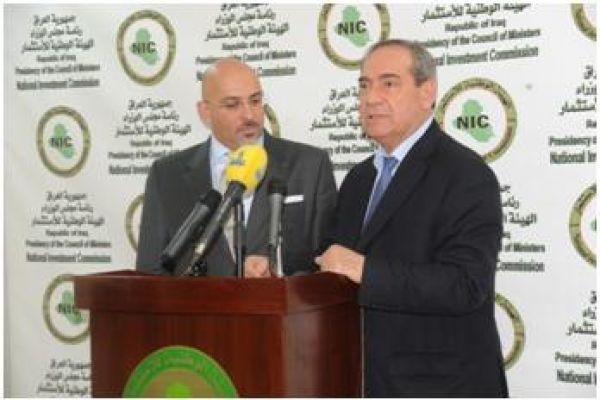 At his Meeting with Member of the British House for Commons, Nadhum Al- Zahawi
NIC Chairman Discusses Means of Cooperation between Iraq & UK
NIC Chairman, Dr. Sami Al- Araji discussed means of cooperation between Iraq and UK and the possibilities to benefit from the experiences of British capitals and companies and attract them to invest in Iraq.
That was during his meeting with Mr. Nadhum Al- Zahawi the member of the British House of Commons, the British of Iraqi origin. Dr. Sami assured that being Mr. Zahawi an important member of the economic committee in the British Parliament the matter that made his high profile business connections very wide will contribute to supporting the investment process in Iraq through giving the required guaranties for international banks to enter Iraq.
Mr. Zahawi in his turn said that the confidence in Iraqi economy is an important issue for the international companies, that's why Iraq should adopt a reliable program in this regard, assuring that his negotiations during the last two days with concerned sides in Iraq will help him to come up with a clear business plan for the economic cooperation between the two countries and the role of businessmen of both sides.
Regarding the project of the One Million housing Unit, one hundred thousand units of which had been rewarded to Hanwah Korean Company to be built in Baghdad out of Baghdad's 224 thousand units quota of the whole project, NIC Chairman assured that the next few weeks shall witness extensive discussions regarding the technical, economic and legal details of the project and requirements for implementation within the specified time, he also added that an experienced Korean technical delegation will arrive Baghdad soon to start the surveying works in the 8000 Dunam land where the project will be implemented.
Meanwhile, NIC Chairman assured that the commission will start distributing application forms for Iraqi people willing to obtain housing units of the areas specified as (100, 120, 140 M²) which will be sold according to two manners, the first is represented by paying the whole money in cash while the second manner is represented by paying by installments according to details to be discussed later.