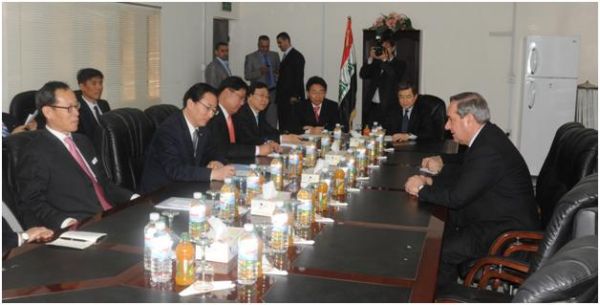 At His Meeting with the South Korean Minister of Economy
NIC Chairman Dr. Sami Al- Araji stresses the Desire to Reinforce Investment and Economic cooperation between Iraq and South Korea
NIC Chairman, Dr. Sami Al- Araji stressed the NIC desire to reinforce means of economic cooperation between Iraq and South Korea through implementing huge investment projects by South Korean companies in Iraq.
This came during his meeting with the Minister of Economy of South Korea Mr. Choi Joong Kyung who emphasized that Iraq is a rich country and enjoying an abundance of natural resources that make it a fertile investment land in the various sectors.
Dr. Al- Araji praised the big economic expertise and capacities Korean companies have and which Iraq is in need for the advancement of different sectors like industrial, agricultural, energy, housing, transport and telecommunication referring that NIC is currently negotiating with a number of South Korean companies to participate in implementing part of the project of the one million housing units in all Iraqi provinces, which reached the advanced stages of negotiations hoping that the next few months shall witness the implementation of the project.
NIC Chairman showed the commission's readiness to submit all facilities and guaranties mentioned in the investment law No. 13 for the year 2006 and its amendments to the South Korean companies and other companies willing to invest in Iraq stressing that NIC is following a careful selective strategy in choosing the companies to implement investment projects in Iraq.
The South Korean Minister in his turn expressed his happiness with the warm reception the Korean delegation was met with assuring his government desire to reinforce investment cooperation in a way that serves both countries benefits.