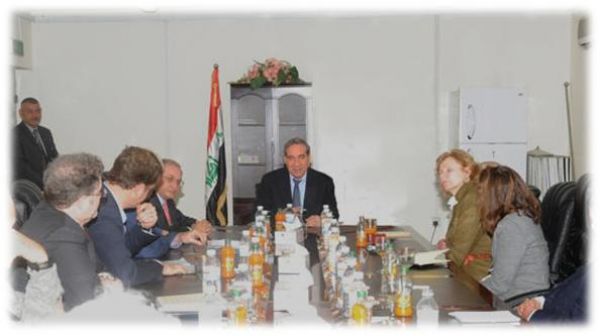 At His Meeting with a Delegation of American Economic Specialists
NIC Chairman, Dr. Sami Al- Araji:
Economic Reform Is the Most Important objective in the Government Five Year Plan
NIC Chairman, Dr. Sami Al- Araji stressed that the economic reform is one of the most important objectives focused on by the government for the next period through its five year plan 2010-2014
Dr. Sami added, at his meeting with a delegation of American economic specialists and expats, that the National Investment Commission is currently negotiating implementing huge strategic projects that could vitalize the investment process all over the country, one of these important projects is the project of the One Million Housing Units in all provinces explaining that the project will be implemented by the biggest international companies.
He also said that the NIC is adopting other huge strategic projects like Dhifaf Karbala in Karbala province and Al- Mustaqbal and Al- Rasheed Projects in Baghdad, reassuring that Iraq is a fertile investment land and that Iraqi investment law is enhancing investors to enter the promising Iraqi market.
NIC Chairman stressed the commission's readiness to submit all privileges and guaranties granted by investment law No. 13 for the year 2006 and its amendments and to overcome all difficulties facing investment companies willing to invest in Iraq in different sectors.
The visiting delegation in its turn highly praised the progress Iraq is currently witnessing hoping that NIC could achieve all objectives assigned to it by attracting foreign investments in to Iraq.