During his Visit to Najaf and Karbala Provinces
NIC Chairman Examines a number of Investment Projects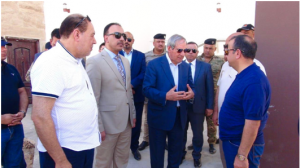 NIC Chairman, Dr. Sami Al- Araji visited Najaf province on Friday, 05.07.2019 to explore the latest rates of achievement in investment projects.
He reviewed the achievement rates in a number of the investment projects in various fields and stood upon the reasons behind the delay in completing some of them and he also discussed with the in charge officials there the hardest challenges that hinders the investment process in the province especially those connected with the religious tourism investments.
Al- Araji visited a number of the investment projects in sectors of industry, tourism, commercial ahead of which al- Ameerat Housing compound designed to contain 1500 housing unit divided in to three blocks (A, B and C), 600 of which were already handed over to the beneficiaries and the remaining are under construction.
On the other hand, NIC Chairman also visited Karbala International Airport project site supervised by the Administration of the Holly Husseini threshold on Saturday, 06.07.2019
During his tour, he met with the project manager, Eng. Haider Rabeea, the representatives of the Holy Husseini Threshold, the executing company and the consultative office.