NIC Chairman meets with the S.K Ambassador to discuss joint cooperation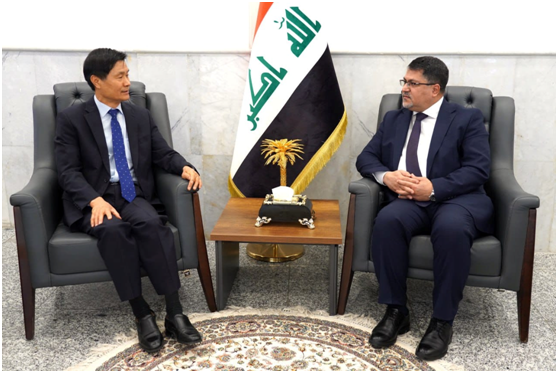 Chairman of the National Investment Commission, Dr. Haider M. Makiya, received the Ambassador of the Republic of South Korea to Baghdad, Mr. Choi Sung Soo, where they discussed mechanisms for joint cooperation in the investment sector.
Chairman of the National Commission stressed the importance of enhancing the levels of bilateral cooperation between Baghdad and Seoul, proceed with agreements to protect investment work between the two countries and attract Korean capital and investors.
Makiya added that the Bismayah Compound, which was implemented by the South Korean Hanwha Company, is considered one of the pioneering residential projects, due to the availability of quality standards, accuracy in implementation, competitive prices, and a solution to the housing crisis.
the Korean Ambassador, Mr. Choi Sung Soo, expressed his thanks to the NIC Chairman, Dr. Makiya, for his interest in developing cooperation and potential technical, legal and financial discussions with Hanwha Company to reach the decision to sign the annex to the contract for the Bismayah Residential Complex project.