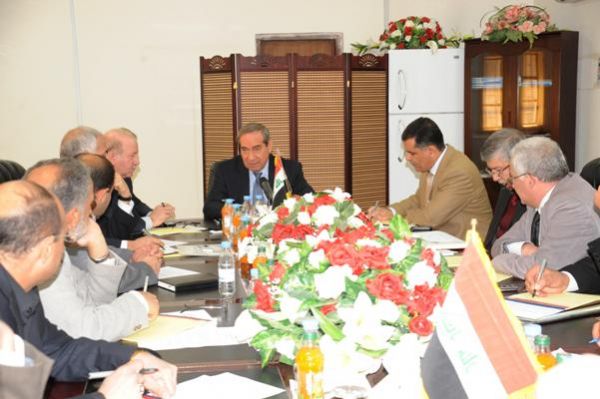 During his Meeting with the Chairmen of the Provincial Investment Commissions
NIC Chairman Reasserts the Necessity of Activating the Investment Process in all provinces
NIC Chairman, Dr. Sami Al- Araji reasserted the importance of allocating lands suitable for investment in the provinces with classifying them in terms of sectors (industrial, commercial, agricultural or housing) lining with the aspirations of the investment map in Iraq for the year 2012, referring to the necessity of preparing a data base for these lands in each province that can actively help in the evaluation process.
The above speech came during heading an expanded meeting for chairmen of all provincial Investment commissions during which Dr. Al- Araji stressed the importance of finishing the new investment map for each province in the various sectors which is to be promoted during all events and international investment conferences for companies and capitals holders.
About investment law and the requirements of the coming phase, NIC Chairman made clear that the coming period shall witness modifying some articles of the investment law No. 13 of the year 2006 and a number of other laws that contradict with the investment law in a way that grants investors more privileges with concentrating on activating the One Stop Shop special role to be played in order to facilitate the procedures needed to be taken to obtain the investment license through granting Ministries representatives wider authorities to make final decisions on behalf of their ministries.
NIC Chairman also listened to a number of suggestions and opinions of the chairmen of PICs regarding the investment in the various sectors promising to eliminate all obstacles that hinder implementing investment projects in all provinces.