NIC Chairman receives the Chairman of Hanwah Group during his second visit to Iraq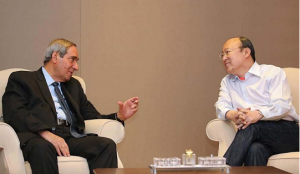 NIC Chairman, Dr. Sami al- Araji received Chairman of Hanwah Group, Mr. Ceung Eon Kim who had made a check visit to Bismayha project site implemented by one of his group of companies, seeking supporting the project and workers there.
During the meeting, NIC Chairman assured that the commission is providing all facilitations and guarantties, granted by investment law No. 13 for the year 2006, amended, for all investing companies in the country including Hanawah Co., the executer of Bismayha housing project that is considered as one of the biggest stratigic project in Iraq and the Region. Dr. Sami expressed his delight with the achievment rates and the rapid advancement considering Hanawah's decision to continue working in Iraq despite the critical security situation Iraq had passed through as a very strong and brave one.
Mr. Kim, in his turn, renewed his company's pledge to the Iraqi people to make all efforts to achieve the project within the timings agreed upon in order to contribute in solving the housing crisis in Iraq.
Hanawah Co. employees expressed their happiness and appreciation for this visit which is representing an essential moral incentive, the matter that shall encourage them to redouble efforts to keep progress on.
Mr. Kim urged his employees to go ahead in what they had staretd saying " Many things have been changed here since the last time I was here" confirming that this achievment wouldn't have been done without the big support submitted by the Iraqi government represented by the National Investment Commission for making this project a success.