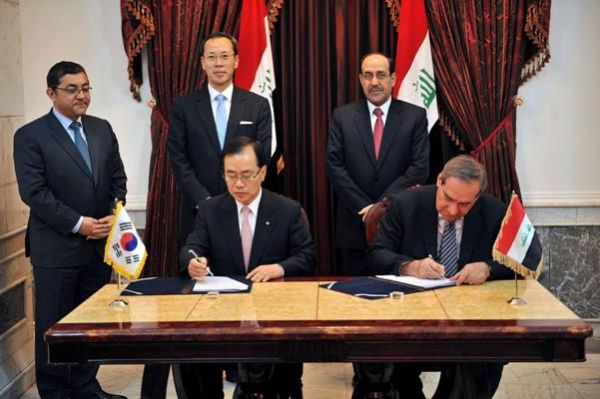 With The Attendance of HE Prime Minister Nuri Al- Maliki
NIC Chairman Signs the Deal of Constructing 100 Thousand Housing Unit in Baghdad
Iraqi Prime Minister HE Nuri Al- Maliky assured his desire to see the implementation of the project as soon as possible in order to build one million housing units and to perform major projects in other fields.
The Prime minister's speech came during signing the agreement of building 100 thousand housing units in Baghdad with Hanwah Engineering & Construction this last Wednesday.
NIC Chairman in his turn Dr. Sami Al- Araji, who signed on behalf of the Iraqi side, said that signing this contract is the beginning of the project of building one Million housing units throughout Iraq, the agreement which was supported by the recent visit of Prime Minister Maliki to South Korea
Dr. Sami added that this project will begin soon in the land that had been allocated for this purpose in Bismaya (south east of Baghdad) and covers part of the share of housing units allocated to Baghdad which is 224 thousand of the total one million housing units. He stressed that this project will house approximately 600 thousand residents and will provide them with all the services.
Mr. Hyun-Chung Kim, CEO & Vice Chairman of Hanwha expressed his great satisfaction with the signing of this agreement and affirmed that work will begin immediately at the site.