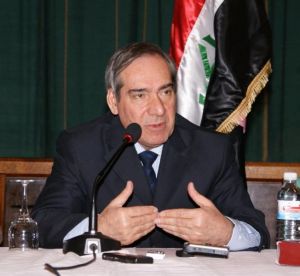 In an exclusive interview with Al- Arabia Satellite Channel
NIC Chairman Stresses that Investment in Housing Sector is of the first priorities of the forthcoming phase
NIC Chairman, Dr. Sami Al- Araji stressed that the NIC is considering investing in the housing sector of its first priorities.
That came during his exclusive interview with Al- Arabia Satellite Channel, referring that the commission had prepared a full plan to participate in solving the housing crisis in Iraq by adopting the project of building one million housing unit all over the country considering it as a first step to solve the problem followed by other equally important steps.
Dr. Al- Araji also referred that the Housing sector is given special attention by the government the matter that was emphasized by the five- year development plan ratified by the government and announced by the ministry of planning and developmental cooperation.
NIC chairman also stressed the commission's readiness to receive all companies willing to enter the Iraqi market to invest in Housing sector and other vital sectors asserting that Iraq is a fertile land for investment and has a promising market equally for Arab and foreign investors.