During his visit to province of Karbala
NIC Chairman …the council of Ministers agreed to grant an investment license for the implementation of Diffaf Karbala residential project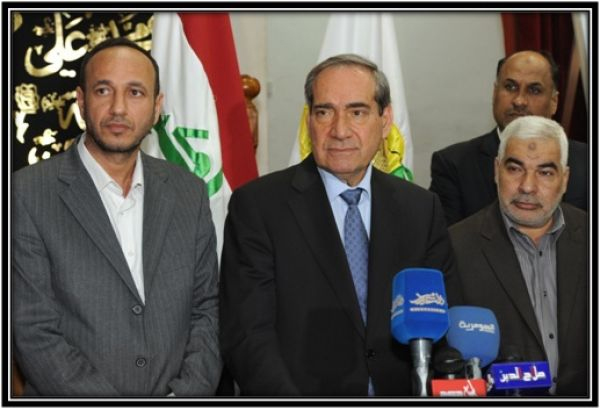 The chairman of NIC Dr. Sami al- Araji declared that the council of Ministers decided to grant UAE's Bloom an investment license for the implementation of Diffaf Karbala residential project indicating that the Holy City will witness the presence of the Prime Minister Nuri al- Maliki singing ceremony between NIC and Karbala Investment Commission on one hand and the executing company on the other hand as well as laying the foundation stone of the project.
This took place during al- Araji's visit to Karbala on Wednesday 20/1/2013 when he met Mr, Amal al- Herr, the governor of Karbala, and Mr. Muhammed Hamid al- Musawi, president of the provincial council, with the presence of a number of officials in the province where they discussed the ways to enhance the investment process, stressing that many international companies and investors willing to contribute in investment process because of Karbala's location and its religious status.
Al- Araji added during a joint press conference that Diffaf Karbala residential project will be a major milestone in the architecture, modernity and services according to the heritage, history and the sanctity of the city, explaining that the project's area is 20 million square meters and it will be established on the banks of Razzaza Lake which includes building) 40( thousand housing units horizontal and vertical system which will be completed with four stages each stage include )1o(thousand unit accompanied by service installations. The NIC chairman said that this visit comes in the line with the approach in the following –up the investment process in all provinces in Iraq and provide all suitable conditions for establishing investment projects praising the role of the provincial investment commissions to make the investment process a success to serve the public interest.
From his part Karbala's governor praised the role of NIC in attracting large capitals to the province and facilitates the entry of investors to establish investment projects and revitalize the commercial traffic in provinces such as Diffaf Karbala residential project expressing the province's readiness to support the investment commission in the province and all investors according to the Iraqi laws.