During the Elaborated Economic conference for Investment Projects in Iraq
NIC Chairman: the New Amendment of Investment Law Gave New Privileges to Investors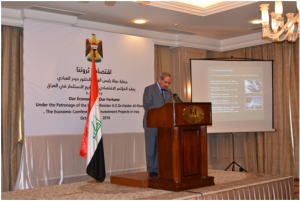 Under the Patronage of H.E Prime Minister of Iraq, Mr. Haider Al- Abadi and under the slogan of
((Our Economy if Our Wealth))
The Elaborated Economic Conference for Investment Projects in Iraq was held in Baghdad on the 17th of October.16 organized by the Supreme Committee of Provincial Coordination and the National Investment Commission with the attendance of a number of Parliament members, Ministers, Governors, Heads of Provincial Councils, Heads of Provincial Investment Commissions in addition to representatives of banks, foreign and Iraqi investors and businessmen, aiming at activating the suspended investment projects in all Iraqi provinces and announcing new investment opportunities.
The conference works started with a welcoming speech by the head of the Supreme Committee of Provincial coordination, Dr. Torhan Al- Mufti who noted that the event would consist of four workshops each one would be concerned with a number of provinces and the projects available there to be discussed with investors through an open dialogue.
Dr. Mahdi Al- Alaq, the General Secretary of the Ministers' Council who represented H.E Prime Minister of Iraq by an opening speech through which he conveyed the Government's interest and direction of activating and supporting private sector by holding several meetings that resulted in ratifying a package of recommendations in coordination with the concerned banks to ensure their leading role in the economic field.
Al- Alaq also referred to the Government's decision to pay the contractors' dues, though partially, and lay down mechanisms for postponed payment is a decision that confirmed its keenness to proceed with investment movement, showing his hope that this event can achieve positive results in the work of the concerned executive sides.
Dr. Sami Al- Araji, NIC Chairman and through his speech reviewed the work of the National Investment Commission since the investment law approval in 2006, referring that NIC granted between 2009- 2016 (1336) investment license with total value of (90.1) billion $ distributed on various economic fields.
Al- Araji asserted that NIC had announced (940) investment opportunity in 2015 and (992) opportunity in 2016 in different sectors and provinces, presenting an overview of these investment opportunities in the fields of Oil & Gas, power, housing, transport, industry, tourism, services, youth & sport, and agriculture.
The opening session also consisted of speeches for the DG of TBI bank – Mr. Faisal Al- Heimas, IFC regional manager- Mr. Ziad Bder, and the financial manager of GE company.
Worth mentioning that this event included all available investment opportunities in all sectors in Iraq through the interactive workshops that covered all Iraqi provinces.