During the periodic meeting with Bismayah Registrars
NIC Chairman… We are moving forward in Bismayah project according to the Timetable previously announced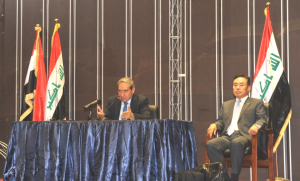 NIC Chairman, Dr. Sami Al. Araji asserted, on Sunday October.18.2015, continuing the work wheel in Bismayah housing project according to the previously laid down timetable, adding that the work rhythm is rising to deliver the first patch of the housing units at the end of this year, denying delivering any unserviced unit.
The statement came during an expanded meeting, organized by NIC on Baghdad International Fair premises, with a number of Bismayah registrars to announce the details of the next phase of the project, with the attendance of the project manager in Baghdad, Mr. Sang Seo Kim
Al. Araji submitted a detailed explanation about the first stages of the project saying that 72 thousand people registered their names in the preliminary registration process conducted through the internet to reserve housing units in Bismayah, while 30 thousand units where reserved by the banks which counts more than the 100 thousand units planned to be constructed.
according to the story above the contract was signed and people were invited to attend and sign their units contracts after paying the down payment, but what happened was not all the preliminary registrars came, the matter that compelled the NIC to obtain the Ministers Council approval to take loans of 2 Billion $ from the Iraqi banks with 4% profit in order to ensure the first payment that covers 25% of the total project value according to the mechanism approved by the Ministers Council in the year 2010.
NIC chairman added that Hanawah Co. invested this money in constructing 14 factories, which are considered the skeleton of the whole project, in addition to the infrastructure and the buildings being currently constructed.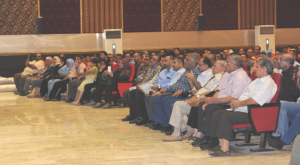 Dr. Sami also confirmed during the meeting that essential services of water supply, sewage, power supply and gas will be ready with delivering the first patch of the housing units, while work is moving forward to deliver the needed schools, hospitals and other services for the ready compounds.
Guests, in their turn, showed their comfort and appreciation for the efforts of the company and NIC to commit to all their obligations according to the timings agreed upon, hoping that delivering the first patch and getting registrars settled will be a good start in the way of having the rest of the city completed.