During a press conference in Bismayah housing project site
NIC Chairman: Work in Bismayah project is proceeding according to Schedule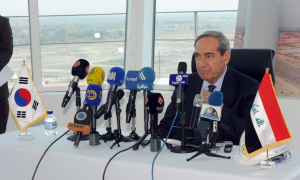 NIC Chairman, Dr. Sami al- Araji assured that the work in Bismayah New City project is proceeding according to schedule agreed upon overcoming all difficulties and obstacles, simultaneously he praised the positive role played
by official entities in supporting the project and Hanawah Company strong commitment to implement all its obligations.
The announcement came during the big press conference organized by NIC at the 14th of October/14 to show the media all progress achieved when Dr. Sami revealed accomplishing all buildings in A1 sector which consists of 10 thousand housing unit with full services shall be delivered to registrars during the year 2015 while implementing the commercial centers shall start on 2017. The master plans for 16 project of building schools, sewage plants and medical centers have also been done waiting to be started soon.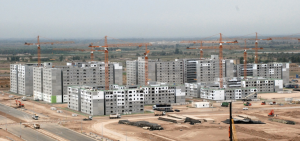 NIC Chairman also revealed the intention to start up a company in cooperation with Hanawah co. to run Bismayah city according to internationally adopted management systems for housing compounds against regular fees to be paid by dwellers referring that there will be 7 entrances for the city provided with high standard security system.
Al- Araji also added that the NIC had contracted with UNIGAS Lebanese company to provide liquidized gas to the housing units in the city through the pipes in coordination with NIC and Iraqi Ministry of Oil. Coordination had also been done with the Iraqi Ministry of Housing AND Construction to expand Baghdad- Kut road to reach New Diyala bridge ending with Bab al- Sharqi point. NIC also is studying with the Iraqi Ministry of Transport the possibility of implementing a project of Metro that connects Bismayah with the center of Baghdad through announcing the project as an investment opportunity.
Hanawah Co. declared that (8) km out of (20) km total length of the services tunnel that contains electrical wires and telecommunication lines had been accomplished, while the company is keen to increase its equipments and heavy vehicles from 1600 to 20600 during the next year and increase its staff number which is 6500, 650 of whom are Korean expats by adding 550 more Korean expat.
The conference, which was held in the marketing tower just accomplished in the city, was attended by a big number of media channels and journals.