During her meeting with the Minister of Transport
NIC Chairwoman assures…Our Experience and connections shall be submitted to serve the vital projects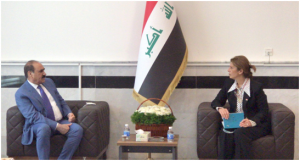 NIC Chairwoman, Suha Dawood Najar, assured that the full NIC capacities of international economic relations and consultation experience in technical, financial and adminstrial fields shall be submitted to serve the vital projects in any part of Iraq.
During her meeting with H.E Minister of Transport, Captain Nasir Hussein Al- Shibly, she discussed the most prominent projects in the Ministry represented by the Faw Grand Port and the huge financial revenues it holds for Iraq through its capacity to accelerate the transportation of oil and goods and the chance it presents to diversify ways of import and export and hyper activate the transport sector, assuring the NIC's full readiness to manage the investment sides in the project through creating the competition opportunities in more expanded way and investing the high capacities and relations owned by the World Bank to support this project which can give a spiritual support for the Iraqi citizen and ends the big debate raised about it recently.
Minister of Transport in his turn showed his vision for the possible means of cooperation with NIC in other important projects in the Ministry like the Monorail project which can provide around 10 thousand job opportunities in Baghdad announcing the possibility of its implementation by Anstl French Company in cooperation with Hyundai South Korean Company with approximate total cost of 1 Million Euro.
The Meeting was attended by a number of DGs from both sides.