During presiding a periodical meeting with the heads of PICs
NIC Chairwoman… Next Year shall Witness the announcement of constructing a Bismayah like city in each province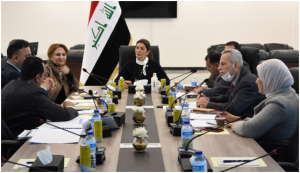 NIC Chair woman, Suha Dawood Najar, assured the government insistence to find the feasible solutions to treat the obstacles hindering the lurking and halted investment projects in the provinces through the technical committees formed in the General secretariat of the Ministers' Council for this purpose according to the Council's resolution No. (245) for the year 2019.
Najar said, during presiding a periodical meeting with the heads of the PICs of (Kerbala, Babil, Wasit, Najaf, Dyala and Thi Qar) on Saturday 19.12.2020 with the attendance of the NIC DGs of the Economic Affairs dept. and the Legal Affairs dept., that rejuvenating these projects can contribute to providing a large number of job opportunities for the youth and rebounding the economic reality in each province especially with what Iraq is facing now of the Covid 19 ramifications and the drop in the world oil prices.
NIC Chair woman declared that 2021 shall witness the announcement of investment opportunities for constructing complete housing city in each province following the example of Bismayah city in Baghdad and according to the actual need in the province after preparing the suitable required lands, referring that the success of Bismayah project and the people's interest to buy have given a big stimulus to construct such projects in the provinces especially for the limited income class.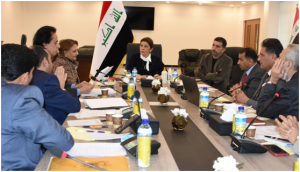 Najar called for establishing a committee for strategic planning supervised by NIC with the membership of the heads of PICs in charge of studying the actual need of each province for the investment projects according to sectors instead of granting the investment licenses randomly, stressing the importance of cooperation between the provincial investment commissions and other governmental institutions for the purpose of developing the investment process in Iraq.
NIC Chair Woman also stressed the necessity of accelerating the update of the Investment map for the coming year 2021 for each province and according to sectors and the need for the investment projects and the provisions stipulated in the investment law.
Heads of PICs in their turn reviewed a number of problems and obstacles that face them and their need for having clear explanations for a number of the investment law provisions in order to achieve the goal for which it was legislated.
NIC Chair woman listened to a sufficient presentation by the heads of the PICs regarding acgievment and the number of investment licenses granted during 2020 in each province in addition to the suggestions and opinions recommended to gear up with the investment reality in the various economic sectors.