Through a video conference meeting with the Governance Institute for Directors
NIC holds a workshop for its staff about corporate Governance and activating the role of the Private Sector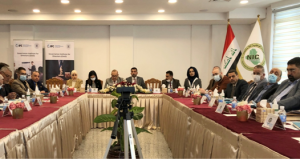 NIC in coordination with the Governance Institute for Directors and the International Finance Corporation held a workshop through a video conference meeting on Monday 18.01.2021 under the title of (The role of NIC in developing corporate governance practices to activate the role of the private sector in Iraq) with the attendance of NIC advisor, Mr. Adnan Kashmoola and the participation of the heads of sections and a number of NIC employees.
Lecturers (Dr. Bushra Ameen: CEO of the Governance Institute for Directors in Iraq, Mr. Wadeea Al- Handhal: member of the Institute board of trustees/ Baghdad, Dr. Ameera al- Saeed: in charge of corporate governance projects in MENA/ Cairo, Dr. Usama al- Ansari: expert of research and development of Arab capitals market/ Cairo) presented a lecture included defining the role of the Governance Institute for Directors in spreading the governance culture to support and activate the private sector and minimize the challenges it encounters, in addition to the role of governance  in attracting local and foreign investment with presenting success stories of corporations that had applied governance as a work style which led to increase in profits.
The lecturers expressed thankfulness for the NIC Chairwoman, Suha Dawood Najar for adopting such workshops that can have positive effect on the Commission's work to provide best services for investment companies and investors.