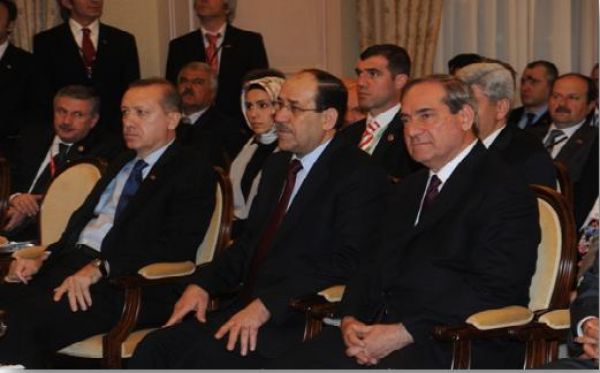 Under the Patronage of H. E Prime Minister Nuri Al- Maliki
And on the Purpose of Attracting Turkish Investors to Iraq and Creating Investment Partnerships between the two Countries
NIC Holds the Iraqi- Turkish Forum in Baghdad
Under the patronage of H. E Prime Minister Mr. Nuri Al- Maliky, NIC held the Iraqi – Turkish Investment Forum in Baghdad that aimed at attracting Turkish Investors and capitals to enter the Iraqi market and participate in the strategic investment projects in the various sectors and create investment partnerships between the two countries that can serve mutual interests.
Nuri Al- Maliky – Iraqi Prime Minister said in the speech he gave during the conference which was attended by H. E Mr. Rajab Taieb Ardogan – Turkish Prime Minister and a number of Ministers from both sides and more than 200 Turkish businessmen and companies representatives in addition to the elite of the Iraqi businessmen, Al- Maliki said "The Iraqi government is challenging time to accelerate the process of reconstruction, investment and providing the needed services to Iraqi people through being opened to the neighboring countries companies, adding; We all in the council of Ministers, the parliament and the National Investment Commission are supporting the process of reconstruction and investment and ready to submit all the needed facilities to companies willing to work in Iraq."
H. E the Turkish Prime Minister in his turn expressed his happiness and appreciation for the warm welcome that greeted he and his entourage, stressing his country's readiness to participate in the works of building and reconstructing Iraq in addition to participating in implementing the big and strategic investment projects assuring the strength of the relations between the two neighboring countries by saying that Iraq and Turkey are as brotherly as Tigris and Euphrates.
On the same context, NIC chairman Dr. Sami al- Araji stressed Iraq willingness to start wide economic relations in all sectors with Turkey calling for the Turkish companies to launch the promising Iraqi market and create investment partnerships with the Iraqi public and private sectors in a way that suits both countries intentions to build solid economic ties.
The Forum was anticipated by a seminar between the Iraqi businessmen and Turkish businessmen and investors during which Dr. Al- Araji explained investment opportunities in more than 10 economic sectors as ( Housing, Infrastructure, Oil & Gas, Industry, Agriculture, Water Resources, Electricity, Transport, Health, Education, Telecommunications and Tourism).
A number of questions and interventions by Turkish and Iraqi businessmen were witnessed during the seminar through which visions and thoughts were exchanged to remove all obstacles that hinders the foreign investors' work in Iraq.