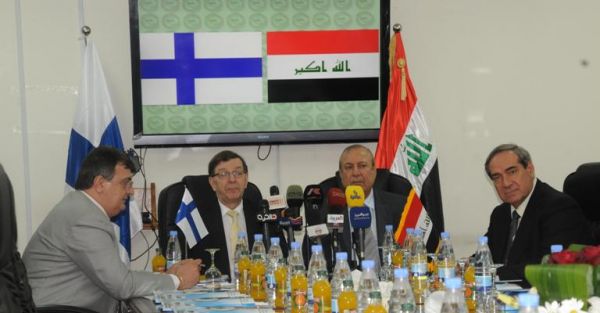 With the Attendance of the Deputy Prime Minister for Economic Affairs and a Number of Ministers
NIC Hosts Economic Negotiations with the Finland Delegation Headed by Minister of Foreign Trade and Development
Deputy Prime Minister, Mr. Rodj Nuri Shawees assured that Iraq is anxious to foster links of economic cooperation and trade in the fields of Housing, Industry, Agriculture, Health, Education, Trade and Telecommunication with the Republic of Finland.
Mr. Shawees said in a press conference held Wednesday 6. Apr.11 at the NIC premises, with the attendance of Mr. Paavo Väyrynen, Finland Minister of Foreign Trade and Development- Head of the Finland Delegation and Dr. Sami Al- Araji, NIC Chairman, that the negotiations made were about prospects of cooperation and facilities made available for investors in Iraq with the plan adopted to reconstruct Iraq as the Iraqi Government had shown its full readiness to submit the necessary facilities to encourage Finnish companies to launch the promising Iraqi market.
Head of the Finnish delegation in his turn expressed his happiness to reactivate the bilateral relations between the two countries assuring that Iraq has certain privacy and differs from Finland and they need new partnerships with Iraqi local private sector and sometimes with the public sector especially if the start would be in the industrial sector where the need for a partner would be critical.
In the same context, NIC Chairman clarified that the commission is currently working to submit all the required facilities for investors in the various fields in a way that contribute to reconstructing Iraq.
The meeting was also attended by the Iraqi Ministers of Trade, Transport, Telecommunication and Education in addition to Deputies, advisors and DGs in several other Ministries when prospects of mutual interest were discussed with the visiting delegation.
It is also worthwhile to mention that the Finnish delegation had included representatives of the Industries council, the Finnish Technological Industries Union and representatives of the biggest companies like (Nokia Siemens) and companies specialized in construction, agriculture, environment and climate monitoring.