In Coordination with the Ministry of Labor and Social Affairs
NIC Prepares to Start a Training Center for the Manpower in Bismayah Project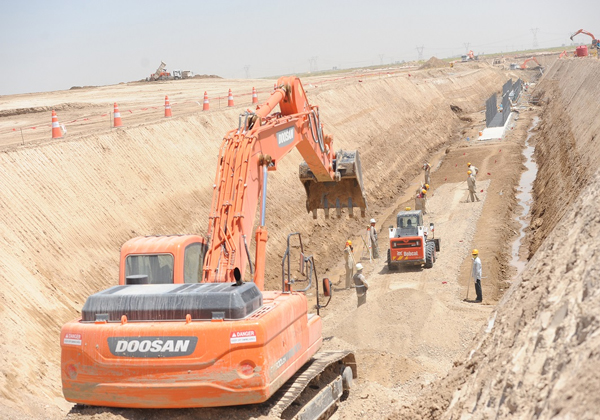 Hanawah South Korean Company is currently working on the infrastructure for Bismayah New City project after having completed the works of testing and leveling the land and having drilled a tunnel for the drinking water pipes, sewage pipes electrical power and telecommunication networks.
An official statement announced by the NIC Media Center assured that the process of laying down the pipes networks and cables will be implemented according to the latest international technologies through a tunnel with 20 km length, 5 m width and 10 m depth and there will be a tunnel for each complex of the nine complexes.
The implementation rates for the 6 ready casting plants have reached 60% and they represent the main generator of the project since they will provide the concrete panels to build 80 housing units daily and 1800 housing units each month.
Hanawah administration manager – Mr. Charlie added that extensive meetings and studies are being made currently in the company discussing shortening the implementation duration through increasing the number of engineers and technicians.
NIC, and within its efforts to attract the biggest numbers of the Iraqi labor force to the project, initially agreed with the Ministry of Labor and Social Affairs to start Bismayah project training center in order to train Iraqis according to specializations needed for the project while more than 500 job opportunities had already been occupied by Iraqis.